Revolutionizing how art professionals work. Providing Artist Portfolio and Art Gallery Software & Websites Since 2001
Managed Artwork provides cloud-based portfolio and website management software tailored exclusively to the needs of fine art galleries and artists. Over 700 fine arts professionals use our gallery and artist software daily to manage their SEO, inventory, contacts, transactions, consignments, marketing, website, iPad Sync, and more. Requiring only an internet connection, the Artwork Manager-TM is available where you are - at the gallery, in the studio, at an art fair, at home or on the road.
Managed Artwork empowers your art business with the ability to:
Eliminate redundant data entry
Streamline art business procedures
Get free updates with our cloud-based software
Completely Web-based software
Tailor your own affordable monthly subscription
Access the software anywhere, anytime.
Featured Client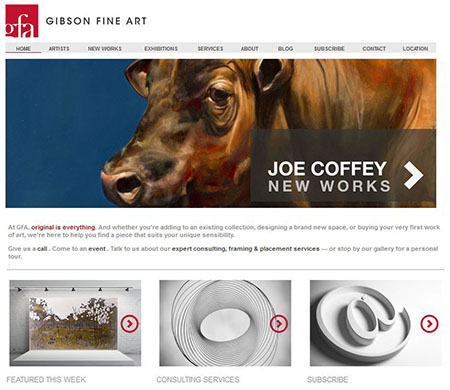 Gibson Fine Art

Gibson Fine Art recently redeveloped their home page and site architecture. We think it looks pretty sharp! They work with a graphic designer regularly to help them develop interesting marketing materials and images for their website. On the home page they have applied a banner shaped image plus three teaser images below. The teasers bring attention to a featured artist, services and a call to action to subscribe to their bulk email.

Visit their website to learn more about this outstanding gallery www.gibsonfineart.ca. They are a team art lovers with a dedicated exhibition space for new & emerging talent to get discovered. Their staff consists of devoted art consultants, curators, framers, appraisers, and mentors. They are a trusted resource for corporate & business clients, architects & interior designers.

Please contact us if you are interested in redeveloping your website.